Noticias destacadas
Conoce las últimas novedades de TSR Wind
Artículos de prensa
Consulta las publicaciones acerca de TSR Wind, su actividad, desarrollo y logros alcanzados.
Llevan tiempo trabajando en su desarrollo y, por fin, tras un año haciendo pruebas de campo, se ha iniciado la comercialización de los robots de TSR Wind (Tratamiento Superficial Robotizado SL),...
read more
Intervenciones
TSR Wind participa en diferentes Foros, Congresos y Actividades del Sector Eólico. Cónoce nuestras intervenciones más destacadas.
TSR WIND has already inspected the blades of more than 2,000 wind turbines around the world. What is the worst thing you have found in these inspections? On more than one occasion we have carried...
read more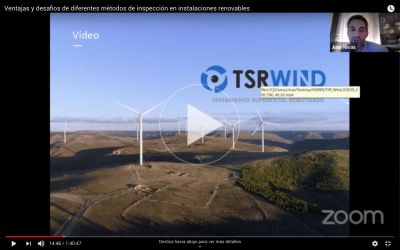 Juan Rivas, TSR WIND Business Development Manager, in the Webinar organized by AEMER, Association of Renewable Energy Maintenance Companies.
read more
Actividad de TSR Wind
Conoce más acerca de la actividad de TSR Wind en el mundo. Los últimos logros alcanzados, asistencia a eventos del sector, etc…
In TSR Wind (Tratamiento Superficial Robotizado S.L.) we have successfully carried out the latest tests with the new cleaning robot, wind turbine towers and blades, ARGOS 300. Thanks to...
read more
Come and join us at the stand 3-E50 at BEC Bilbao Exhibition Center. On our stand you will experience a demonstration with our robots and we will be pleased to show you our blade inspection online...
read more
Financiación de la UE en proyectos I+D+I
Certificado de Excelencia UE
Sistema de Gestión Ambiental